BPOSeats.com prides itself as having the best technical support in the industry.  Let's start with the basics:
We have active 24/7 technical support that doesn't use email for service tickets.  We find that the response time with email isn't fast enough…and we know that issues with your business are always urgent.  This means our team sit on Skype.  Once you work with us, your business will have a dedicated group chat with our entire IT team.  When you have an issue, we respond quickly.
Computers can have issues.  We troubleshoot and resolve immediately, ensuring your business has no down time.  If it's not a simple issue (like a unresponsive lan card) we have additional machines we swap in (with your permission) for immediate resolution.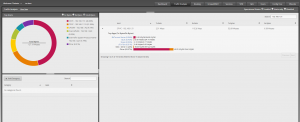 On the next level of IT support is how we setup and configure our network.  Each client of ours sits on their own private/independent network.  We do not centrally aggregate data.  We believe in the importance of PCI Compliance and ensure our facilities don't "share" data between one another.  This means you will have your own private router, your own private network, and your own dedicated public static IP(s.)  We use state of the art enterprise-grade routers made by Ubiquiti.  
Each client has access to server-tools to help ensure their workforce is productive and staying on task.  With CACTI bandwidth management and our Ubiquiti Routers DPI (Deep Packet Inspection) feature, you can stay on top of your agents and be sure sites they shouldn't be browsing are blocked. This helps keep productivity high and excuses low!
We have the bandwidth capability to support both soft-phones and hard-phones.  Whatever works best for your campaign works best for us!
Since we're APNIC registered, we have access to 1000s of static IPs and are happy to give your campaign however many is needed to run your operations successfully.

We have dealt with simple setups and super-complex setups.  We're here to make your solution work.  Overall we want to maintain extreme flexibility with all clients – making each office perfect for our clients is the mission.  What this means is that you might have a custom build that requires our attention to detail – we're here to help.  With PCI Compliance requests can be internally-configured doors, restricted CPUs, VPN tunnels – we have dealt with it all.
And that's why we end on the final important details that most clients don't realize:
We never force you to use our servers.  We don't want the liability.  It shouldn't even be legal as far as we're concerned.  We will support your servers and your independent setup!  If another facility tries to "aggregate" your data into central servers – RUN!

We never force you to use our VOIP.  In fact, we provide you direct contact to multiple VOIP contacts so you can choose which company is best for your campaign.  Typically we suggest these companies – Airespring, Asia Pacific Network, Five9 – as they have provided fantastic results to our existing clients.  If you'd like an email introduction, don't be shy!
If you're looking for the right solution for a BPO, please don't forget to overlook the IT support provided.  Serious facilities invest seriously into their IT – and we're #1!
Please enter your contact details and a short message below and I will try to answer your query as soon as possible.