Seat leasing, the smarter choice for BPOs
When establishing a BPO business, first thing that comes to mind is cost. Infrastructure should be in place to get operation started. But that will be a hell of a headache especially for start ups, for businesses that want to test the markets, companies with limited budget. It is also a big consideration for companies that focuses on maximizing returns.
Large upfront investment is required along with the preparations and documentations.
The better option
Seat leasing service simply means that clients can lease convenient workplaces that are already established. Providers are already experienced in setting up businesses and supporting businesses. Clients already have points of references for feedback about how a provider works or what kind of services they offer. More importantly, providers already have the necessary equipment, buildings and IT facilities to support the business. Providers are also able to customize work areas and agreements to accommodate client preferences.
Seat leasing advantages
With the big savings on physical facilities, capital can be focused more on human resources. Providers include IT, internet, security and air conditioning. Other providers have diversified their offerings by including HR, payroll and recruitment services.
Businesses can commence immediately after the contracts has been sealed .
Financial Security
Seat leasing also offer arguably the lowest term rates. The model ultimately mitigates financial risk. With seat leasing, lesser money is used to put up the business. So lesser money is at risk. Contracts can also be terminated at a lesser time.
Providers are also into the lookout for your business. They help you make sure your business grows. The bigger you get, the more business they acquire, making it a win-win business model.
Seat leasing is a more practical business set up. Some providers require minimum seat requirements, some don't just like BPOSeats.com.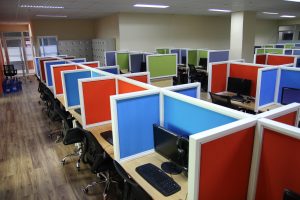 Set up your business with us!
To know more about the advantages of BPO seat leasing and our services, please leave a comment below or leave a message in our 'Contact Us' section