When your campaign expands, can your Cebu seat leasing facility accommodate you?
It's a common problem that happens in Cebu.  You start with a conservative number of seats and soon your campaign is scaling.  You need more seats.  You ASSUMED your current facility would be able to provide.  You were wrong.
BPOSeats.com takes Cebu seat leasing clients every week who expanded beyond our competition!
A lot of our clients come to us simply having outgrown their existing facility.  This is when working with BPOSeats.com makes a big difference.  Our 4000+ seats, across 4 facilities, means we are a serious player in the business.  We pride ourselves in coming up with creative working solutions and we don't want to lose clients.  We often are adding more space in our ex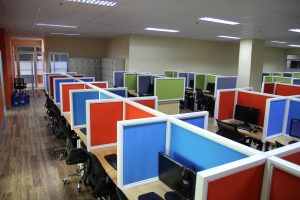 isting facilities, taking additional floors.  If we begin to peak out, we look for new buildings.  We are the largest Cebu seat leasing option and it shows.  This means enormous scalability for your business, meaning you don't need to become a victim of your own success.
We allow clients/campaigns to jump from building to building…
The goal of our business is NOT to lock you into year-long contracts that prevent you from growing.  Because we have so many clients, a number of them are often scaling.  This means all our clients become a "live jigsaw puzzle."  As you grow, we look for creative solutions in our inventory to move you.  If you want to jump to a different building, we don't mind.  We honestly want to promote ourselves as the most flexible Cebu seat leasing solution because we know we are!  We want to work with you to ensure success and long-term growth.  We have a long-term perspective on our business and that means we look for long-term relations with all our clients.  We will do what it takes to keep you happy and keep your campaign growing the profits you need!