Whether your planning to launch a start-up BPO business or expanding one, entrepreneurs are always looking out for better alternatives to maximize their resources.
A great alternative to renting office spaces is seat leasing. BPO companies looking for a more flexible and affordable office space should take a look at the services BPOSeats has to offer. Seat leasing is an exemplary business alternative in saving more time, effort and resources for your company.
Cebu City is among the extremely urbanized cities in the Philippines. It is also a fast-growing centre for Infotech and Business Process Outsourcing (BPO).
One company stands out from the rest.
BPOSeats.com is taking the seat leasing world by storm. Various seat leasing options for BPO aspirants are available.  Innovative BPO solutions for your call center start-ups.
Lease one of our office spaces starting at budget-friendly rates of $99 per seat. Offices are certified 24/7 capable for your plug & play operations. Over 4, 000 seats are available so you'll never run out of one in case you'll be needing more.
BPOSeats.com caters to every need of it's client. Our staff are highly-trained to cater to your every need from cleaning even up to hiring the best people for your company. BPO solutions that every company needs to run a campaign successfully are expertly crafted here in BPOSeats. Internet are blazing at speeds of 100 mbps. Connections are fiber optics and provide by dual-companies to ensure zero downtime fro your campaigns.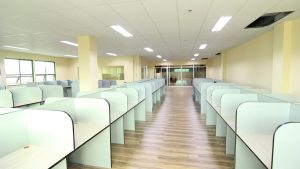 Rest assured, we don't do "shared" floors like other seat leasing companies. All of our spaces are built out to be exclusive 24/7 to your own private office.
Every company dreams of having a private office where they can run their operations privately. BPOSeats.com seat rental plans are totally personalized. Options for seat leasing are flexible and affordable. For over four years, our clientele keeps on growing. Growth in the BPO industry doesn't seem to stop. Plenty of spaces are here for you to lease. For the expansion of your BPO business, BPOSeats can be your partner in making sure you have the right office in conducting your business.
Contact us today for additional information on how our seat rental plans work for you.