BPOSeats.com: BEST Call Center Services Provider in Cebu
BPOSeats.com specializes in Call Center office for lease solutions.
For our call center office for lease solutions are available now because we have 4,000+ seats across four locations in Cebu: Ayala ACC Tower, JDN IT Center, ONael Capitol Building, and GAGFA Tower.
We don't do shared floors because we don't believe it leads to business growth.  We want to help our clients grow in hopes that their business will develop. We also want them to stick with us.
Our call center office for lease solutions provide you the ability to get started right away:
Internet already hooked up across redundant providers. (We only use the best ISPs in Cebu: RISE and PLDT)
Our call center office for lease solutions are 24/7 exclusive, this means you have dedicated CPUs in your own private office.  We do not do shared space for our clients.
Our networks are all configured independent of one another to PCI Compliance spec.  You don't need to fear about stolen data, or centrally accumulating your data on shared servers.
We offer our clients the following:
Brand New Facilities and Computers
Office Chairs
Cubicle Setup with Sound Control
Aircon
24/7 Security
24/7 IT Assistance
Electricity
BEST INTERNET IN THE PHILIPPINES
AT A GLANCE:
The call center business is something we have been in for nearly 10 years in Cebu.  We know how it works here and we want to help your business grow with the knowledge we have gained.
We believe that we are are the experts of BPO growth and development in Cebu.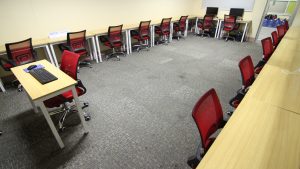 If you want to know more about our services, please email us at amanda@bposeats.com or call us at +639159507909.