Why BPOSeats.com's Seat Leasing Option is Well-Known to Businesses?
Seat leasing is a well-known option to most businesses. It is among the most inexpensive and useful method for launching your company. What's great about this is that companies are getting more than just actual seats and office spaces. Rather of spending for huge service bundles, you can rent private seats from 5 to 1,000 and pay on a monthly basis.
Number One Provider in the Metro
With over 4 years of expertise, BPOSeats.com is the MOST TRUSTED BPO solutions provider in Cebu. It has seat leasing services that promises quality and efficiency to run an office. It has already made a mark in the industry, with a competitive yet affordable price in the market.
For as low as $109 per month, you get to enjoy 100MBPS Fibr Optic Internet connection, free use of meeting/conference rooms, brand new facilities and computers, professional office chairs, cubicle setup with sound control, 24/7 IT support and 24/7 security. You can also get your own exclusive office which you can access 24/7.
On top of having the flexibility and the ability to accommodate our clients scale and growth, we can also provide turn key solutions such as VOIP Services, Payroll and Business Creation, Virtual Assistants, Recruitment and Staffing, and Office Hire to prospective clients.
We currently have 3 prime locations across Cebu:
GAGFA Tower, Panagdait Mabolo
ACC Tower, Cebu Business Park Ayala Center Cebu
JDN IT Square Center, AS Fortuna Banilad Mandaue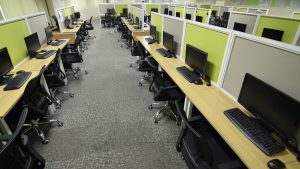 With BPOSeats.com, your success is one step ahead with us. If interested, don't hesitate to check us. Call us at 09159507909 or email at amanda@bposeats.com now!