Looking for a Call Center Office for Lease?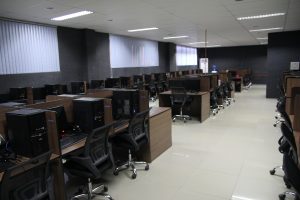 BPOSeats.com has 4000+ seats across 4 locations in Cebu, meaning we know all about call center office for lease.  But we aren't giant "shared" floors – our model is different.  We focus on building exclusive offices for every client.  So this means that while we have 4000+ seats, our call center offices are mostly built of smaller offices that each client rents for 24/7 access.  Sick of being on a communal floor?  We can't blame you.  No business can grow properly without privacy.  Our facilities are different.
We offer top notch facilities with 24/7 exclusivity.  We can build custom floor-plans, meaning your office can have CEO rooms, training rooms, waiting areas, sleeping rooms, and IT support rooms.
Imagine it like your own private office, custom-built, and supported by the structure of BPOSeats.com.  This means 24/7 IT and tech support.  This means the best Internet lines in the country.  They means premium facilities that will impress your agents and your clients.
The RIGHT choice is a Call Center Office for Lease from BPOSeats.com
We know you need to get started…and sometimes you need to get started NOW!  Why don't you give us a call.  With over 100+ offices we have solutions available immediately.  If you're concerned about locking in long-term contracts, many of our facilities are month-to-month agreements.  This means as you grow beyond the capacity of your room, we can relocate you to a bigger room easily.
You have the ultimately flexibility when dealing with BPOSeats.com.  And one thing is consistent: our desire to be the best solution in Cebu.  So we invest heavily in our own infrastructure and Internet lines to assure you 100% 24/7 uptime and operations.  You really should give us a call and see the BPOSeats.com difference.  If you didn't know, you can call our CEO anytime.  Her name is Amanda, and her phone number is 09159507909.  Let us see what we can do to make your problem a BPOSeats.com solution.