BPOseats.com not only cares to see your business succeed but also we help you put together a trained team to help your Call Center/ BPO office operations run as smoothly as possible. BPOSeats.com cares to invests in your growth, making our terms flexible to make sure we get you your most desired improvement for the company. You get more than what you can actually get!
BPOSeats.com basically has everything you need to make your business flourish. Even with trained professionals as a team, BPOSeats.com offers more amenities and facilities such as:
-Office Space Rental
-Call Center Office for Lease
-Technical Support
-Virtual Assistants
-Recruitment and Staffing (Recruitment Hub in APM)
-VOIP Services
-Payroll and Business Creation (coming real soon!)
For AMENITIES, our services include:
24/7 IT Support
Redundant Fiber ISPs
24/7 Exclusive Managed Office Environments (we don't do "shared" because it doesn't work!)
The most competitive Pricing in Cebu (our cost for 24/7 Exclusive is LESS THAN our competitor's shared!)
Shared Pantries for clients
Shared Conference Rooms, Interview Rooms, and Training Rooms
A professional environment with exclusive access and great Internet is one of the major keys to help each of our clients growth. Throughout our years of experience in the BPO Seat leasing industry,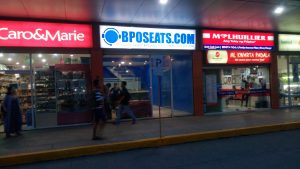 we at BPOseats.com have become very well versed in what it takes to help each of our clients find success with each of their campaigns.