When choosing a location for your business, you need to consider important factors – dependability, expense and solidity. That is why outsourcing has become a common scheme for organizations especially startups because of its minor expenses. There are a lot of countries offers good outsourcing services however, Philippines is the top choice for most entrepreneurs.
Seat Leasing for Startups
Seat Leasing aims to provide better alternative for companies who wish to save from large capital outlays. With this option, outsourcing or business expansion can be enforced quicker and hassle free.
Seat leasing providers always make sure their facilities and equipment are up to date and constantly improved to create a perfect professional and functional environment. With this option, clients are assured they get the full package – computers, furniture, power, internet, AC, IT and security. Some providers like BPOSeats.com go the extra mile by offering some BPO services like human resources and payroll services.
Introducing BPOSeats.com
We are the number one and most trusted seat leasing provider in Cebu. With over 3 strategic locations to choose from, BPOSeats.com has seat leasing services that promises quality and efficiency to run an office. We've been in the industry for more than 4 years now and has made a mark with a competitive yet affordable price in the market.
For as low as $109 per month, you get to enjoy high speed internet connection, free use of meeting/conference rooms, brand new facilities and computers, professional office chairs, cubicle setup with sound control, 24/7 IT support and security. You can also get your own exclusive office which you can access 24/7.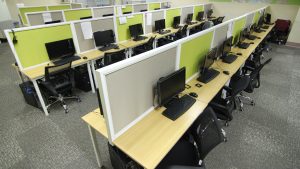 For more additional information, please visit our website www.bposeats.com