Call Center Offices in Philippines' Prime Locations
Setting up a call center is easy and simple with the help of Cebu's number one leasing company, BPOSeats.com! We can help you out in setting up your new BPO office at a very affordable price that starts at $130 per seat monthly! We have many leasing options suited to your company's needs. You can choose among the 7 facilities we have in Metro Cebu and Pampanga. With over 10,000 seats available for lease, there's enough space for everyone.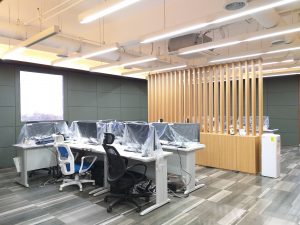 eBloc Tower 4, Cebu IT Park Jose Maria del Mar St, Apas
Central Bloc, Cebu IT Park, V. Padriga St
ACC Tower, Cebu Business Park  Bohol Street, Cebu Business Park
i1 Building, Cebu IT Park 8th Floor Cebu, Jose Maria del Mar St
GAGFA Office, Panagdait Mabolo 15th Floor Cabahug Street
JDN Square IT Center Office P. Remedio Street, Banilad
Marquee Mall, Pulung Maragul Angeles Pampanga
Why Choose us:
These sites consist of PEZA-accredited facilities.
Internet connectivity runs without any glitch as its speeds run as fast as 100 Mbps.
Computers sets are available for each agent.
Leasing options are cost-efficient and give value for your money.
The length of your stay with us depends on the client's satisfaction with our services.
Clients are assured of a flexible term for their stay with the leased office space.
Additional rooms can be made to make room for your training sessions or conferences.
BPOSeats.com offers flexibility and excellent service to any BPO company. So if a good deal in leasing is what you're looking for, BPOSeats is the best place to start!
To understand more about the benefits of our services, please do not hesitate to contact us through:
Mobile number# : +639159507909
Email: amanda@bposeats.com