Simple Guide To Ideal Office Space For Your Call Center Business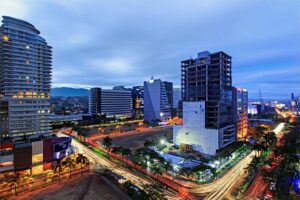 Still in doubt how you can pick your ideal office space for your call center business in the Philippines?
Find out with BPOSeats.com top call center office in Cebu and Pampanga to offer you affordable and state-of-the-art facilities so your team of any sizes can get quick access!
Ideal call center office to best fit your business
Picking an ideal office space for your call center business in the Philippines is remarkably important especially for startups.
You need to strike the best balance amongst these attributes: location, facilities, and price.
If you're just starting out, a serviced office space in Cebu and Pampanga would be the best way to go.
Not just will downplay your expenses, you can likewise delight in short term leases and versatile work space alternatives.
Below are some ideas that you can choose from:
Ayala Center Cebu (ACC) Tower (Seat starts at $199)
Ayala Center Cebu Tower is at Cebu's premier mall destination: Ayala Malls, Cebu Business Park, which is known as the central business district of Cebu.
Major call center companies are here such as TeleTech, Teleperformance Philippines, Wipro, Talleco.com., Amazon, Cognizant, among others.
In proximity to international hotels and fine dining experience.
A public jeepney terminal is also here to provide convenient access to your business and employees' transportation and communication needs.
Thus, BPOSeats.com call center office in Ayala sits strategically to offer your business leisure and comfort experience at an affordable rental rate!
JDN Square IT Center Office (Seat starts at $130)
JDN Square is at P. Remedios Street Banilad, AS Fortuna Mandaue City.
It has a 1400sqm space nestled between a private courtyard, coffee shop, and canteen.
JDN IT Square houses startup companies who are growing their team members in a quiet, secluded place.
Just a 3-minute walk to Oakridge Business Park Mandaue, and 10-15 ride to IT Park and Ayala Center Cebu.
IT Park Cebu City (Seat starts at $219)
The IT Park in Cebu City is one of the leading IT/BPO hubs in the country. Welcoming various international companies who choose to expand their business in Cebu province.
Call center, contact center, virtual assistant business, healthcare services, financial, ESL (English as a Second Language) business continues to thrive in IT Park Cebu City.
And BPOSeats.com offers you three ideal offices to choose from.
Office for lease: Ebloc 4 at $219 per seat, Central Block at $199 per seat, and i1 area at $189 per seat.
Huge discounts for volume seats definitely await in all our call center office!
Marquee Mall, Angeles Pampanga (Seat starts at $150)
The Pampanga province also invites outsourcing companies to invest in their place because of their affordability, improving transportation access, infrastructure, and real estates.
Our call center office  in Marquee Mall, Pampanga is one of a critical business point for nearby communities.
Thrive in Pampanga, with lots of yearly festivals to join and continue supporting its people who are reliant to its tourism and IT/ BPO industry boom.
Your top call center office in Cebu & Pampanga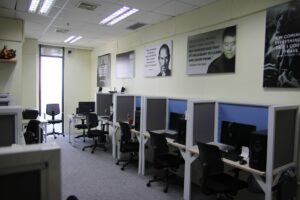 BPOSeats.com continues to support offshore companies who are leveraging Filipino skills to provide top customer service in their fields.
That's why providing a team with a reliable and more conducive call center office whether in Cebu and Pampanga guarantees a sustainable development of your business.
Because all call center facilities we offer are PEZA accredited and are completely equipped with the following brand new amenities:
150mbps+ FIBER OPTIC Internet Connections
Computers with Powerful Specifications
Large Flat Screen Computer Monitors
Professional Office Chairs
Workstations
Desk with Sound Dampening Carpeted
IT Technical Support
24/7 Backup Generators
Free Electricity
24/7 Security Guards
Professional Custodial Services Cleaning Facilities
Air-conditioned rooms
Customizable office space to fit your business needs.
Conclusion
Now you have the best options and guide where to select your ideal call center office in the Philippines best rental prices and convenience.
Supporting businesses in the province of Cebu and Pampanga. BPOSeats.com is your local ally you can rely on with your call center office solutions and MORE!!!
Reserve your call center office now!
And if you or know someone searching for an ideal office space for your call center, contact BPOSeats.com today!
Want to learn more?
Affordable and Private Office for your Team in Marquee Mall, Pampanga
Seat Leasing Facilities Ideal For Start-Up BPO Companies in Philippines