Cebu Seat Leasing: 4 locations, 4000+ seats, 100+ exclusive offices
You need a BPO quick?  You need a BPO but don't want to invest the massive upfront capital of converting bare space into usable space?  You need a BPO solution that offers flexibility and expansion?  Commonly in Cebu you would need a seat leasing solution.  But when you think Cebu seat leasing you think a shared office, or a shared flo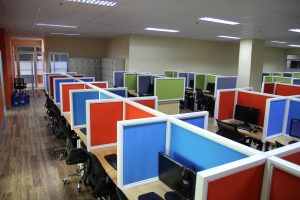 or…  that's not how BPOSeats.com works.
Why pay for Cebu Seat Leasing prices when you can have your own exclusive managed office solution for the same price?
While its Cebu seat leasing is a popular term, we don't believe in the model.  It ultimately results in confusion, inefficiency, and employee poaching.  So BPOSeats.com gives you 100% exclusive managed office solutions for the same prices as Cebu seat leasing.  Our prices start at $99.00 a seat for an entirely exclusive office environment (price includes Internet, electricity, and CPU.)  Why be on a shared office floor?  Why consider shared space?
With BPOSeats.com, we want your business to grow and be successful.  With our exclusive managed office solutions the hope is your business will grow inside our locations!  For that reason we offer maximum flexibility to accommodate your scaling business.
But what you will never see from us are giant shared floors.  Don't be content with the Cebu seat leasing model as you know it.  Demand exclusivity!  Demand your own 24/7 office!  And stop being taken advantage of by enormous prices!  With BPOSeats.com you get the best solution: exclusive managed office space, at the same pricing (if not less) than our Cebu seat leasing competitors.
There really isn't a better choice.  It's why our business has expanded to 4000+ seats and is the biggest option in Cebu today for flexible office solutions.  Work with us and you will see the difference immediately.  We are committed to ensuring the best spaces in Cebu and we trust that a phone call to our CEO (Amanda) will prove quite quickly why we're #1.  Call her now!  63(0)9159507909.