Office Startup – To Rent an Office or to Lease BPO Seats?
Today's very effective business trend is outsourcing and setting up remote centers. A large number of companies have utilized this business model through business centers especially in India and Philippines. Whether you have a startup or an already established business, it is critical to find the best suitable office space. In the Philippines, there are a number of options to choose from. There are also a multitude of available office spaces and BPO seats for lease.
To decide on the best office set-up, a lot of factors have to be assessed. These include basic facilities such as internet connectivity, accessibility, security, among others. But during set-up, businesses have to look more into their available budget, the number of employees to hire and the size of the office space.
For businesses that are on budget, the more obvious choices would be seat leasing and renting an office space.
Renting an office space
Renting an office space allows businesses full freedom. The office space can be fully customised according to their preferences to come up with the perfect working environment. This is a better option if the business has already a lot of employees or for businesses that are gearing up for rapid growth. However, office space providers do not provide assistance on authorizations. Also, businesses have to start the business from scratch, only except for the office space. A large capital is required. This will be paid for the advance payments, equipment, needed reconstruction and legal requirements. In addition, office rent contracts have at least seven years minimum duration.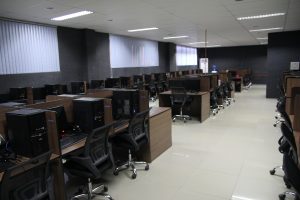 Seat Leasing
With seat leasing, lesser initial capital is required. Businesses can also start operations at a faster time. This option is more suited for smaller businesses. Some BPO seat leasing companies allows businesses to start with just a lease of one seat. Seat leasing providers also encourage growth of their clients. This would require their clients to require more seats, which means additional business to the seat leasing providers.
Seat leasing providers also allows flexible terms. With just one month advance payment, then businesses can start operations. Termination of contracts is not also much of a headache. Most of the available packages are already all-in-one. Providers have almost everything set up for use for a more affordable monthly rate.
Businesses may find it disturbing for their employees to share space. Clients also share conference rooms, pantries and washrooms with other lessees. Otherwise, clients can opt to have a separate room created for them, along with other amenities.
But with all this, clients are assured of a professional working environment.
Set up your business in Cebu
Please leave a comment below or leave a message in our 'Contact Us' section to know more about the advantages BPO Seats offer.